See The Ocean
Nellie loves the ocean. Every year she travels with her family over the Black Mountains to their beach house. And every year her two brothers compete to see who will catch the first glimpse of the ocean through the mountain passes. Nellie never competes–until this year. This year the mountains are blanketed in a heavy mist and no one can see the ocean–no one except Nellie. Publlished by Inclusive Books, LLC and beautifully illustrated with incandescent oil paintings done by Linda Crockett-Blassingame, this unforgettable book tells the story of a young girl who sees the beauty of nature with her mind and her heart. See the Ocean was named to the 1994 American Booksellers Association "Pick of the Lists."
Order See the Ocean Online Here
Hear Estelle's audio Narration of See the Ocean
Media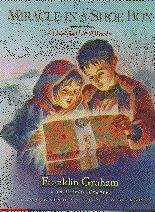 MIRACLE IN A SHOEBOX
Jay Kelly knew that he and his sister, Leesa, could help the cold and hungry children in war-torn Bosina. But he had no idea just how much they could help until they sent their shoeboxes full of toys and supplies–and one small miracle–to the Vacek family…. Co-written with Franklin Graham, with the Billy Graham Ministries and President of Samaritan's purse, an a organization that aids the poor and broken throughout the world, this book is based on the Operation Christmas Child project and is an inspiration to young and old alike.
Published by Thomas Neson Publishers.
Video Stories for Christmas Eve

Start a family tradition the whole family can share.
"The Peace Angel"
Caught up in a war. Lisa and her grandmother flee to the safety of a mountain cabin. As Christmas draws near Lisa dreams of wonderful presents while her Grandmother struggles to keep them fed. With no money for presents, Lisa discovers a gift that money can't buy
"Hey You"
Two thousand years ago in Bethlehem, there lived a boy who could not speak. Although Ezekiel was his name, everyone mocked the boy and called him "hey you." One starlit night as the world received a little baby, Ezekiel would discover his own special gift.
Video Stories for Christmas Eve is a Scene Three Production